One of the most important decorative elements in our home is the rug. A rug must never miss from a place if we want to have a complete decorative result. You never choose an area rug just to warm your space but also to dress it and to create a cozier ambience. Choosing the right rug for the right room is always something that you have to consider before you go on for any purchase. If you know some basic secrets about the rugs you don't have to worry about your choice. Before you go on for any research you have to pay attention in some small details.
Check your budget.
It is very important always to have your dispensable budget for any purchase that you want to make for your home. Even if it is for a rug. First of all you have to check how many rooms you are going to cover with rugs. Second, you have to know the dimensions of the rooms so that to find the right size for each room. Third, you have to decide what will be the use of the rug. For example, if you are going to buy a rug for your child's room you need to find a good quality rug that is going to warm the room considering that the children spend the most of their time playing on it. From the other side if you are going to choose a rug for your kitchen you need a rug that it will be easier for cleaning it. Making a list with these three things you are going to avoid spending your money in the wrong way. Keep in mind that if you want the best quality for your rug this is going to cost you more money but it will be a lifetime rug. You can also make a research for discount shops where you can find good quality rugs in very good price.
Choose the quality.
In commerce there are a lot of rugs in various qualities. You can choose between wool carpets, silk carpets, polyester or acrylic carpets and hand made or machine made rugs. The wool carpets are considered for the majority of the people the most luxurious carpeting available. Purchasing a wool rug is the best choice to be situated in high-traffic areas as if their color and their fibers remain indelible to time. Polyester or acrylic carpets are suitable for the bathrooms as if the dry easy and they are resistant to the molds. The best that you have to do before you reach a compromise with a seller remember to read carefully the instructions of the constructor and the materials that are used to make the rug.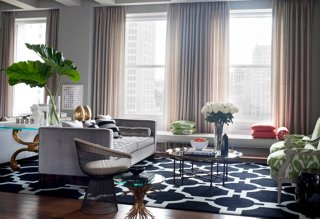 Measure up to the size.
Before you go to buy a rug, make sure that you have measured up to the dimensions of each room so that to know what rug's size to choose. A rug with small size is not bigger than 2*3, a rug in medium size is not bigger 4*6, while a rug in large size is not bigger than 5*8 or 8*10. For your dining room choose a rug that will cover the dining table and the chairs while for the living room the coffee table must be in the middle of the rug. For the rest of the house, for example in the entry it is not necessary to put any furniture on the rug.
Find the right shape.
The most common shapes of the rugs are rectangle, square, round and oval. The choice of the shape must be according to the room size and the furniture's formation. The most rugs are made in a rectangular shape as if it is the most appropriate for any size of room. In case that you have a round table it would be better to choose also a round rug as if it is going to hug your furniture. We are used to see oval rugs in the bathrooms or in the kid's room whereas square rugs are better to be located in empty spaces like the entries.
What about the style?
The style of the rug depends on the style that you want to give to your place. You can find plenty of striped, pattern, floral, geometrical, one-color or even Oriental rug's style. It is better to choose a floral wool rug for a traditional style room or you can choose a geometrical style to give a more exquisite splash to your space. Pattern and striped rugs are suitable for modern style room while you can use a one-color rug without limitations. The color of the rugs is also meaningful but you don't have to worry about it as if there are also a lot of color choices for each of the above styles so that to choose the most appropriate for your home.
Rugs and cleaning.
Now that you have chosen the best rug for your home it is time to take care of it because the more you care for it the most you will have it. You have to vacuum them at least once a week so that to remove the dust. Avoid their direct display of the sun because you know that the sun discolor everything. Remember to turn the rugs from time to time because foot traffic can put extra stress in carpets. Topic cleaning is ideal for small stains. Buy a product that is special for the rug cleaning and read the instructions carefully before you use it. Wash them once every year and keep them in a dry environment until the winter time. If you find the washing a difficult activity for you, call a dry cleaners group of rugs that you trust to do that job. Most of them can take on keeping the rugs until you need them again.
Whatever you choose for your home must represent your personality and your style. That's why be sure to buy a rug that you will love and you will be glad to walk on it.
Have you bought any rug the last months? If the answer is yes, can you tell me which were your criterions to buy this rug?